Date posted: June 22, 2016
The 2016 Hakkoryu Taikai held in Omiya, celebrating Hakkoryu's 75th anniversary was an outstanding success by all accounts. Never before have so many people from all over the world come together for an event such as this.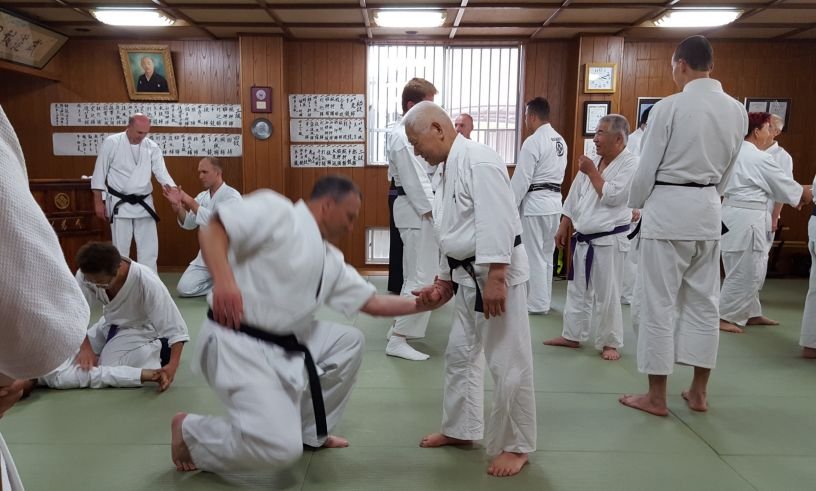 Following the Taikai, the week-long Jikiden sessions were held at the Honbu Dojo behind closed doors. We are pleased to congratulate the individuals below who received the following licensing on 19 June 2016:
Menkyo Kaiden Shihan Sandaikichu:
Jerry Tardi – New Jersey, USA
Errol Poe – California, USA
Girolami Valeriano – Milan, Italy
Michal Coupek – Brno, Czech Republic
Menkyo Kaiden Shihan:
Vincent Folcke – Paris, France
Larry Cellucci – Massachusetts, USA
Menkyo Shihan:
Barry Southam – Pennsylvania, USA
Melineh Saroyan – California, USA
Robert Knowles – California, USA
Richard Berman – California, USA
Aaron Miller – California, USA
Justin Longworth – California, USA
Woody Wong – California, USA
Brian Tumiel – New York, USA
Anthony Giufre – New York, USA
Juan Carlos Ibarra – Colorado, USA
Luc Raymaekers – Beringen, Belgium
Cédric Murcia – Néris-les-Bains, France
Fabrice Jan – Saint-Cybardeaux, France
Jean-Luc Raynaud – Saint-Mont, France
Christophe Lecharlier – Bierghes, Belgium
Dirk Goovaerts – Geel, Belgium
August Luyten – Geel, Belgium
Stefan Dries – Sint-Truiden, Belgium
Kevin Wilson – Utah, USA
Kirill Marychev – Fryazino, Russia
Hakkoryu Taikai 2016 – a glimpse from the inside from Devon Smith on Vimeo.